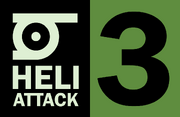 Heli Attack 3 is the third game of the Heli Attack series.
While the basic gameplay is the same with rest Heli Attack games, many things have changed. Instead of endless waves of helicopters, the game features levels, in which the player must destroy a specified amount of helicopters to win.
Official Summary
Edit
With 16 levels of gameplay, 32 weapons, 3 powerups and an unlimited supply of white knuckle action, Heli Attack 3 is the deserving sequel to the hugely successful Heli Attack 2. Also featuring a complete training mission, plenty of sound effects and an original music score, Heli Attack 3 is sure to be a fan favourite.
All rights reserved by Square Circle Co.
Information
Edit
Weapons: The 32 weapons of the game.
Glitches: Problems you may encounter while playing Heli Attack 3.