Heli Attack 1 by Squarecircleco is the first game of the Heli Attack series.
This game is appeared as a mini game, which for testing if the system works, Which is very simple and lack of content. The background are bland and cartoon-ish, due to the incompleteness of the game.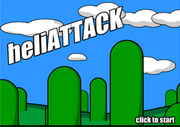 The game featured no sound.